Back to Blog Home
5 Easy Sensory Activities for Children on the Autism Spectrum
June 11, 2021
At Solving Autism, we strongly believe in learning through play, which is a key part of our ABA therapy programs. These activities provide great learning potential because they make education fun! Children can develop their creativity while also enhancing cognitive development and functional skills.
Many kids participate in sensory-related activities from a young age, but for children on the spectrum, it can be especially beneficial. By joining in these activities, children with ASD, sensory processing disorder (SPD) and other challenges with stimulation are often able to train their brains to alter the response. In doing so, it can strengthen self-regulation and help them cope with reactions to touch, sound, scent, sight, movement and even taste.
Sensory-play activities can provide great learning potential because they make education fun!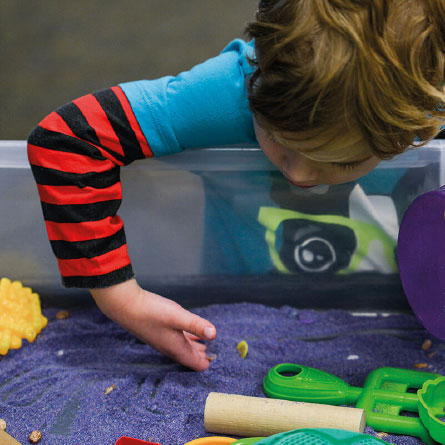 Sensory Play Promotes Many Learning Experiences:
Sensory play encourages children to manipulate and mold materials, building up their fine motor skills and coordination.  Sensory play uses all 5 senses, but the sense of touch is often the most frequent. Children process information through their senses. They learn through exploring these.
Sensory play is unstructured, open-ended, not product-oriented; it is the purest sense of exploratory learning
Self-esteem: sensory play offers kids the opportunity for self-expression because there is no right answer and children feel safe to change or experiment with what they are doing.
Language development- experimenting with language and descriptive words.
Develop social skills: practicing negotiation skills, turn taking and sharing. Provides opportunities for working out problems and experimenting with solutions.
Encourages Imagination and creative play.
To help you create your own sensory play space at home, here are 10 easy activities you can construct with items from your kitchen, playroom, and backyard.
A few tips before you get started:
Make these your own! Each of these can and should be altered to the needs and likes of your child.  There is no one right way to play.
Plastic storage bins will be your best friend for many of these projects. You can get them as cheap as $5 at Walmart and even $1 at The Dollar Store.
One of the best benefits of sensory activities is the interaction between you and your child. Don't just set it down in front of them…. Get down and play with them!  Describe what you are doing and make a big deal out of it.
If your child isn't into the activity, don't force it. Encourage them but let them take the lead.  If there is any sign of fear or push back, consider changing some of the elements or move on entirely.  If one doesn't work, try another one tomorrow.
5 SIMPLE AT-HOME SENSORY ACTIVITIES
1. 2-Ingredient Shaving Cream Paint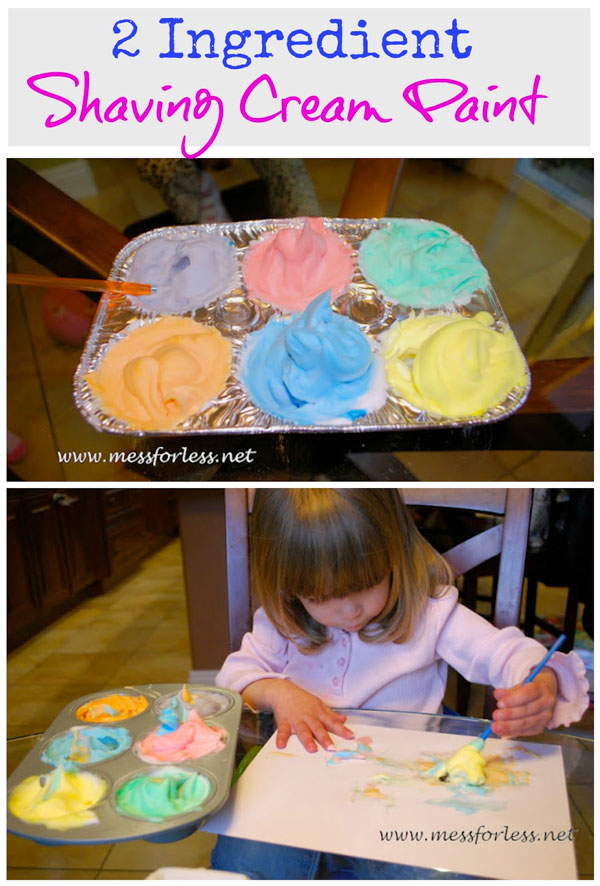 Supplies You Will Need:
Muffin Tin
Shaving Cream
Food Coloring
Paint Brush
Paper
Start off by spraying some shaving cream in each spot of the muffin tin.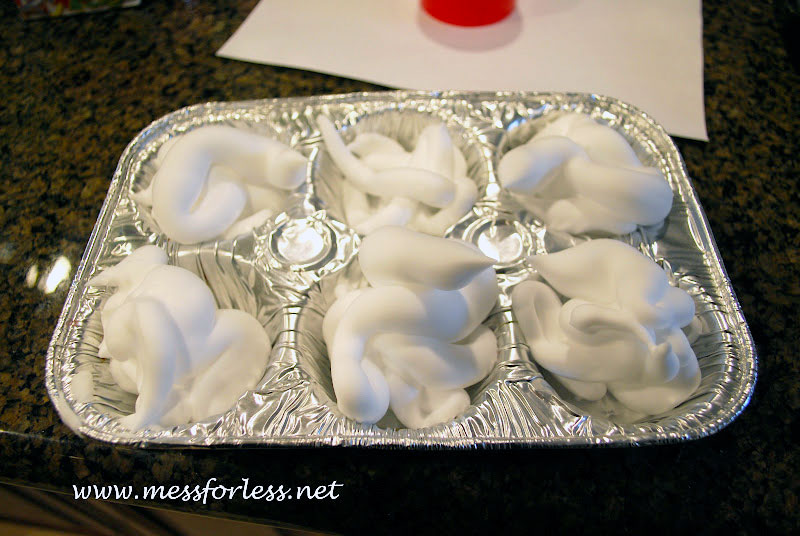 Next add your food coloring and mix. And that's how easy it is to make 2 Ingredient Shaving Cream Paint!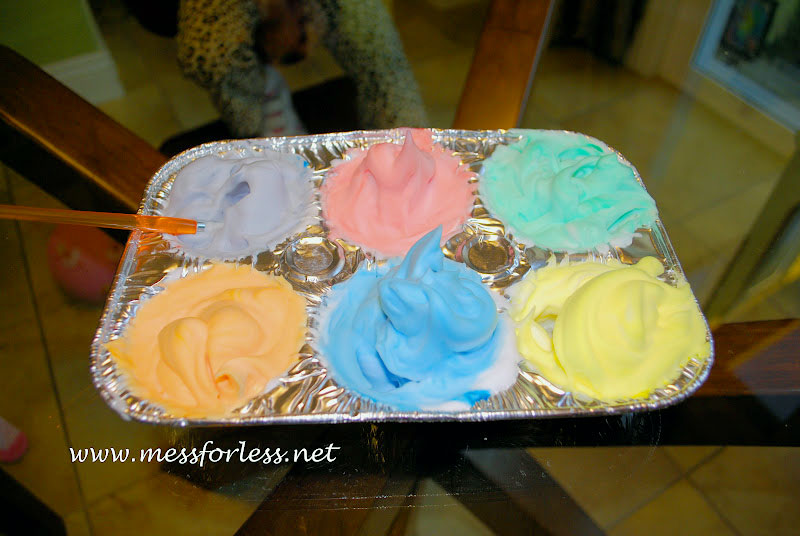 Then give you kids their "palette," a brush and some paper and watch them create.
Then for another fun part, allow them to put their hands right into the shaving cream and let them paint on paper, a clear table, or in a cookie sheet.  It wipes off easily and is super easy to clean up.  If you are daring and don't mind the mess, let them do the shaving cream paint on a mirror or window.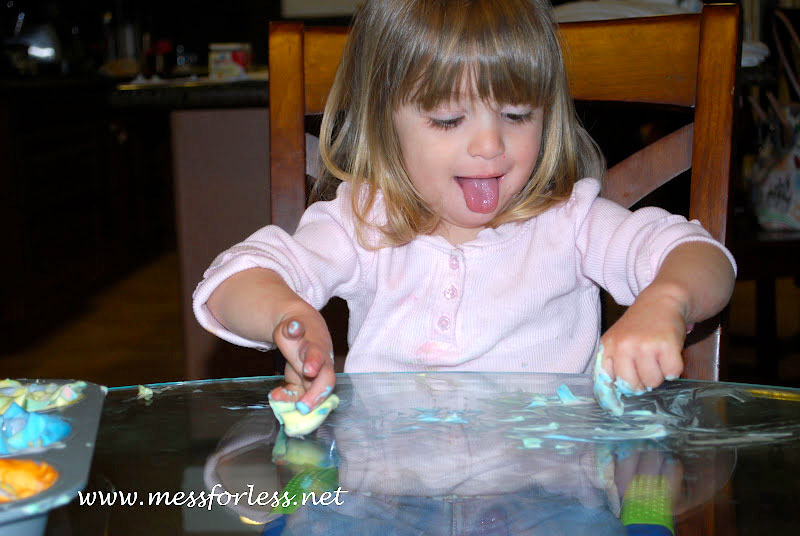 2. Homemade Water Table
Here is a fun, easy activity that can entertain your child.  Get a deep Tupperware container and fill it half way with warm water.  Note:  You may want to do this activity outside on a patio.
Search your cabinets for a bunch of containers in varying sizes and shapes you can place in the water:  measuring cups, plastic drinking cups, bowls, funnels, ice cube trays, eye-dropper, etc.  Pour water into some of the containers along with a bit of food coloring (optional).  Encourage your child to pour the water from one container into another one.  You can even add some heavy and light objects and talk about how some things sink and other things float.
Skills and benefits:  A water table is great for increasing attention span and concentration.  It helps with fine motor skills through hand-eye coordination and balance, plus gives them the chance to build a real-life skill of pouring.
3. Ball Pit
Depending on the size of your child, you will need about 200 to 500 plastic balls.  For the "pit" a blow-up pool works great, a tent or even a large box.  Simply pour in the balls and let your child get in and move around.  Talk about the colors of the balls.  You could even make 2 separate pits and throw the balls from one pit to the other.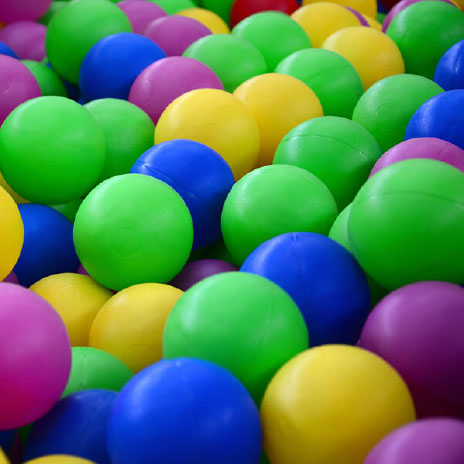 Skills and benefits:  Does your child like to wear a compression vest or weighted blanket? A ball pit is a great alternative for compression. The balls apply tons of pressure points and serves as a mini massage. Beyond sensory, the ball pit offers opportunities to work on gross motor skills, communication and socialization depending on how you interact with your child.
4. Sensory Walk
You will need a few shallow plastic tubs, best if placed outside on a patio. Fill each one with items of different, yet comfortable textures your child may like to experience.  Ideas include pom poms, cotton balls, sand, shaving cream, water beads, dry lentils, feathers, dry leaves, and water to name a few.  Use as many as you like however consider starting small if you child is leery about certain textures.  You may want more than one bin of water to place between any sticky materials such as shaving cream or sand, and you can place a towel down as one of the steps too.
Encourages your child to step from bin to bin, exploring what is in each bin.  Take a turn yourself and talk about what it feels like.  If verbal, encourage your child to do the same.
Skills and benefits:  A twist on the typical sensory bin this one is all about the senses.  It also aids in coordination and balance when stepping between each bin.
5. Plastic Bag Kites
All you need is a plastic bag from the grocery store and 1-2 feet of yarn, twine, or any other type of sturdy string. Tie it to the handles of the bag so it acts as an extension they can hold onto.  You do not want the string to be too long, as the kites work better to catch the draft behind your kiddo rather than flying high.  Head outdoors, tell them to hold onto it and run!  Model it by running alongside of them with your own homemade kits.
Skills and benefits:  It gets your child moving in a constructive way; working on gross motor skills.  Your child will also experience the senses through the sound, touch and feel of the wind hitting the bag.
« Employee Shout Out
Top Autism Websites Recommended by Parents »